AHMETBURAKAKTAS
about
work
contact
dark side
A bag for independent worker
Group project with:
Ian O'Donnell
Ian Morrow
Aaron Wolf
Wenxi Wang
Andrew Bates
Shaunali Shenoy

The shape of the American economy and how people work is changing. It is estimated that by 2020, 60 million Americans will be independent workers; defined as freelance, contract, temporary. For the them, the lines between work and play, office and coffee shop, home and away are becoming increasingly blurred. However, one thing remains constant: the desire to be seen as professional. object is a lifestyle brand designed to meet the needs of this emerging, independent worker market.
How might we design a bag for the rising class of independent workers that fits into the many contexts of their lives?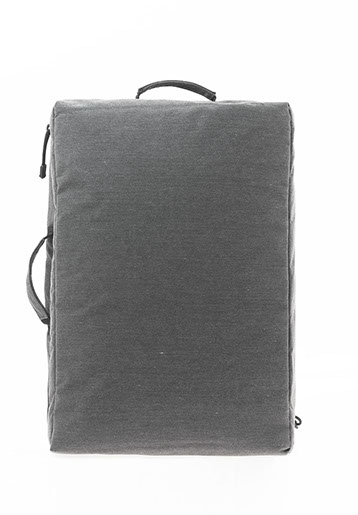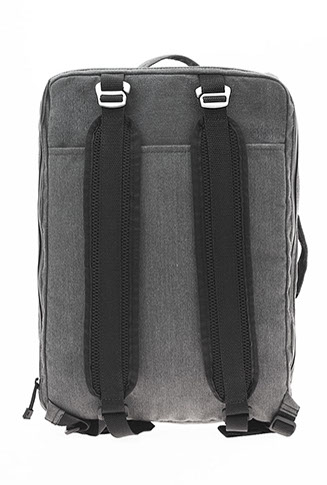 Modular design that switches from backpack to briefcase
object.01 transitions seamlessly between the many contexts of a freelance worker's day by providing two distinct carry modes: backpack and briefcase. While biking through the city or commuting on the train, object.01 can be used in backpack mode for comfort and ease of carry. When stepping into a client meeting and the need for a more professional look is desired, object.01's backpack straps can be easily removed and stowed in the back panel, turning it to a briefcase which can be carried by its side handle.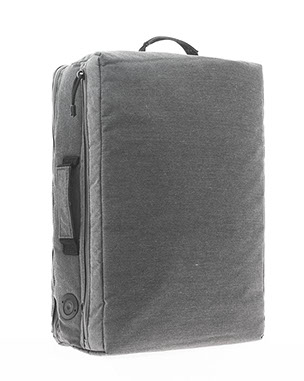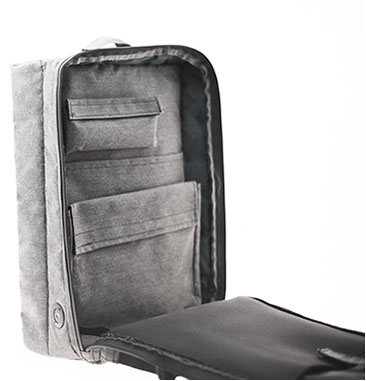 Two primary compartments: Office and Personal
object.01's rear compartment folds open completely to act as your office with a laptop sleeve, a document pocket, and two removable pouches for small and large office essentials. The front compartment, accessed through a side zipper, acts as your personal space with room for a change of shoes, books, food items and a small pouch dedicated for frequently accessed items such as keys and a phone.
Unique shape and high quality details
Taking inspiration from traditional briefcases, object.01's rectangular shape is unique to the backpack market and gives it a modern, professional look. Its details are where it particularly stands out; high-density weave nylon used in military applications, waterproof zippers, and polished aluminium hardware give it a premium feel while attracting just the right amount of attention.
Go to object's website to get yours!

object started with a simple question: "What can we make locally that has value to people?". This reframe of the typical end-user-centered design process afforded our team three primary benefits: the ability to think more broadly about the value to the local economy by simultaneously considering manufacturer, retailer, and end-user needs, rapidly building and testing concepts with users, and consider new models for creating a business.
Thinking more broadly about value creation in the local economy
From early on in the process of developing object, we considered the needs and constraints of local manufacturers, local retailers, and prospective end-users. With the help of the non-profit organization, Design House, we toured and interviewed people at 4 local Chicago manufacturers to understand things like under-utilized capacity, tooling requirements, and minimum order sizes.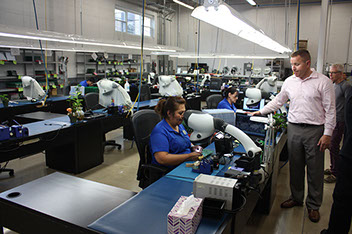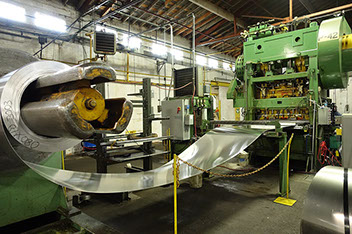 Twisted Traces - Printed circuit boards
Accurate Perforating - Perforated Metal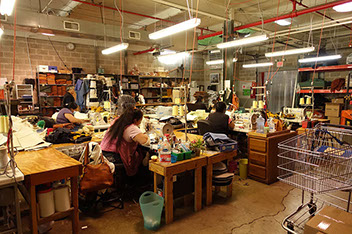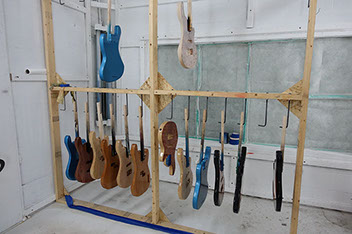 Chicago Protective Apparel - Personal protective equipment
Lakland Guitars - Bass / electro guitars
Simultaneously we performed interviews and secondary research with local retailers to understand things like distribution and aesthetic fit. Armed with this research, we engaged the local design community and facilitated a design jam and ideation session to explore user-centered concepts.
Leading a "design jam" brainstorming session which took place at TEAMS Design
Sharing the results and explaining significant concepts from the design jam session
Research on backpacks on the market
Creating a sketch prototype for manufacturer to guide the fabric prototype
Inside view of Chicago Protective Apparel, our manufacturer
Rapid prototyping and user testing
After selecting a manufacturer and a concept direction, working locally enabled our team to quickly create prototypes and iterate based off weekly user-testing. Testing of prototypes was combined with user research to understand modes of work, types of items carried, and the contexts in which the freelancer lives and works. Considering these things in conjunction allowed our team to pivot from our initial direction of a smart-locking pack to a bag designed for the many contexts of the freelance worker lifestyle.
Ian and Wenxi bringing prototypes to coffee shops to get feedback from independent workers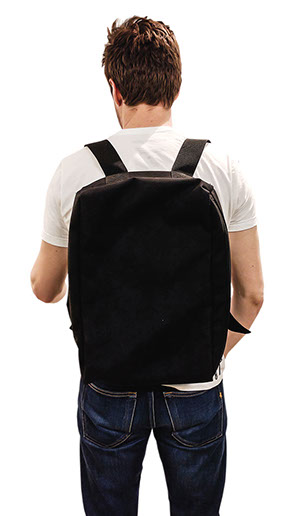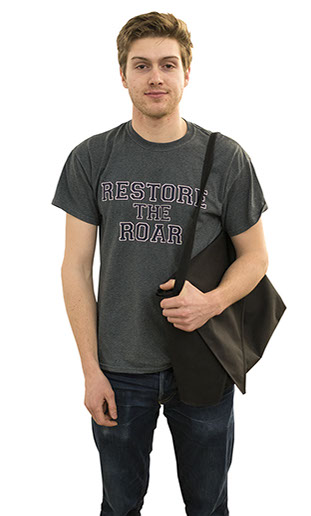 Testing and selecting hardware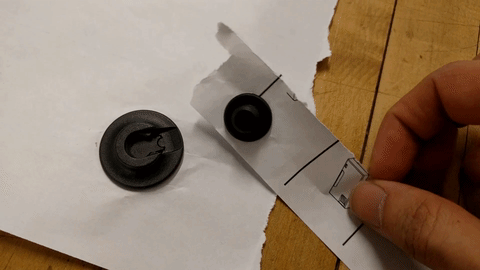 Trip to factory for the third prototype with the new sketch model
Prototyping in progress at the factory
Working on CMF / Selecting fabrics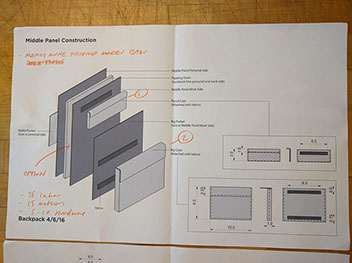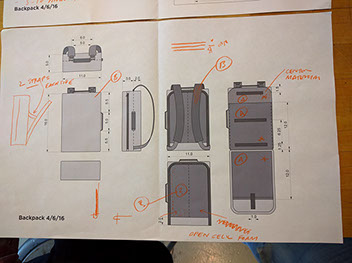 Defining specifications and dimensions for final prototype
Creating object the brand
While developing the product, the team worked to create a brand and website for object once the bag went into production. The brand was created around the idea that objects themselves have no inherent meaning, but rather find their meaning in the context of the life of the person using them. Thus, the resulting logo and brand artifacts use black and white color palette with a plain Helvetica typeface. This straightforward, modern aesthetic represents the essence of the city in which object was born, while allowing the brand to fit into almost any context.
Designing and building a pop up shop for "End of the Year Show" to sell first production runs
Creating object the company
The team also worked to create a structure for object the company, including how to obtain funding and set up distribution processes. Working closely with our local manufacturer allowed us to explore multiple options before settling on a Kickstarter campaign and handling distribution through a few, select local retailers. We look forward to the product, brand, and company officially launching in the spring of 2017.
Special thanks to Alexa Stern and Gordon Wells for the photo shoot of the object products
I would like to thank my team for the amazing experience, enjoyable semester and the extraordinary effort they have put in the project. I would also like to thank Martin Thaler for this great class; Vlad Kharaz, John Merikowski, Susan Estes, Paul Hatch and Tom Auer for their feedback and valuable time; Andrea Everman for sharing her sewing and pattern making skills and lastly the great people at Chicago Protective Apparel for being awesome.